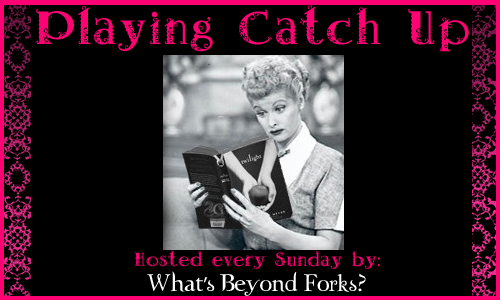 I am taking part in a new meme hosted by What's Beyond Forks? where we take a book that's been on our TBR list and we review it! This came at a perfect time for me because I started reading The Lies About Truth a few days prior. This is a book I got last year at Courtney's launch party and have been meaning to read, but as was talked about in the previous post I only just started reading again after almost a year. Here are my thoughts on this fantastic book.
---
Title: Pretty Dark Nothing (Pretty Dark Nothing #1)
Author: Heather Reid
Publisher: Month9Books
Publication Date: April 23, 2013
Source:Publisher/Netgalley
From Goodreads
It's been twenty three days since Quinn has slept for more than minutes at a time. Demons have invaded her dreams, stalking her, and whispering of her death. The lack of sleep and crippling fear are ruining her life. Energy drinks and caffeine pills don't make a dent. When Quinn dozes off in the school hallway, Aaron, an amnesiac with a psychic ability, accidentally enters her nightmare. The demons are determined to keep them apart, and Aaron from discovering the secret locked away in his memory. Together, they could banish the darkness back to the underworld for good. That is, unless the demons kill them first.
The story opens with Quinn being tormented by demons of unknown nature. It wasn't clear to me at the start whether or not these were actual evil forces attacking her or if she was dealing with some pretty serious mental illness. It wasn't until we meet Aaron and his peculiar sense for always knowing when Quinn is in trouble that I realized there were real demons. The way the story played out though had me questioning it all at times. Were the demons actually there? Or was Aaron only sensing her distress and not the actual demons? And if he was only sensing her distress does that mean that the demons really could be all in her head. It was difficult to gage all of this until the very end.
The plot involved Quinn dealing with her father abandoning the family to start a new one hundreds of miles away, her absent mother who works more than she sees her daughter, the pain of watching her ex-boyfriend flaunt his relationship with resident nemesis, a boy at school showing up whenever she needs him to, and of course the demons. There's a lot going on in Quinn's life. There's a lot to follow. It could seem like all of this would be too much for the story, but Reid was able to keep everything in check and make it play into the larger story quite well. It all really fit together like a puzzle.
We also got to see Aaron's point of view as he struggled to figure out why he kept being pulled towards Quinn. Of course he starts to fall in love with her, but is only confused by the way that she reacts. (He obviously doesn't know that her erratic behavior is caused by the demons) What I liked about all of that was it was natural. The tug of war of love is something that is natural and if he wasn't confused at any point then it all would have been too easy.
The authenticity of their relationship was enough to make up for the sometimes over the top and awkward speech patterns by the characters. Reid sometimes uses way too many words to have her characters say something and it doesn't come off as easy to read as she would have hoped. The best character in terms of authentic speech patterns is Marcus. I felt like all of the things that he says were things that could come out of a teenage boy's mouth.
The ending of the book made up for any errors at the end. The end of the book came up suddenly for me. One second I was ¾ ways done with the book and next thing I knew there was no more. Up until the ending this may not have been a series I would have continued with which is unfortunate. If Reid had introduced this plot point maybe in the middle of the book instead of the end, I would have been more interested in it from the beginning. There's a lot that she could have added to the book by changing the pace and switching where this point came into play. I really think the book could have been a lot stronger that way.
Overall this wasn't a terrible book; it sits solidly at the three stars. If I came across the second book and had time to read it, it's something that I would read.
---